News
Forecasting above-average grain corn yields in Germany
Even under this year's very challenging cultivation conditions, VISTA's satellite-based forecasting service YPSILON® proved its reliability and strengths: While the official statistics only gradually corrected their forecasts upwards - e.g. for the harvest of grain maize - YPSILON® forecast a comparatively high yield potential of between 10.5 and 11 t/ha for grain maize as early as August, while at the same time showing significantly delayed maturity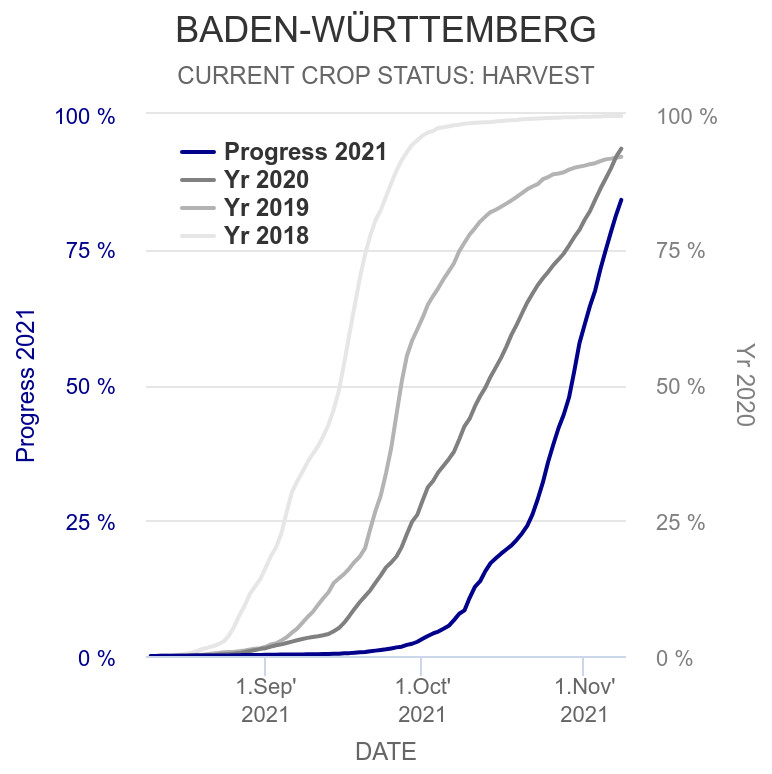 The press release can be found here. For a more in depth look to our results, just visit our interactive map here
---
Impact of COVID-19 on Harvest of Row Crops
The COVID-19 pandemic's far-reaching national and international impacts are well known and often hard to quantify. In our study, "Impact of COVID-19 on Harvest of Row Crops", funded by the European Space Agency ESA, we quantified when harvest occurred in 2020 and whether there were significant delays due to COVID-19. For this purpose, 200.000 fields of summer crops, winter cereals and winter rapeseed in 19 European countries were sampled and processed by our algorithm.

For this, we estimated the harvest period with an accuracy between one and five days by using coherence and backscatter data generated from the Sentinel-1 mission, which consists of two SAR satellites. To quantify the potential delay of the harvest, the harvest dates derived with radar are compared with our extensive big data analysis framework YPSILON®. YPSILON® describes the perfect time of harvest based on the observed phenological phase of the plant and the current weather conditions.

Thus, a later harvest date derived according to the radar data means a delay in harvesting. The result for winter cereals is shown in the map as percentage of delayed harvest events at the expected end of season in the several countries. In the countries Spain, Great Britain and in western Hungary delays of harvest of winter cereals are observed. All three countries were comparatively hard hit by COVID-19 across Europe in 2020, but not necessarily at the time of winter cereal harvest. The maximum COVID-19 14-day-incidence in the considered harvest period for each country is also visualized in the map.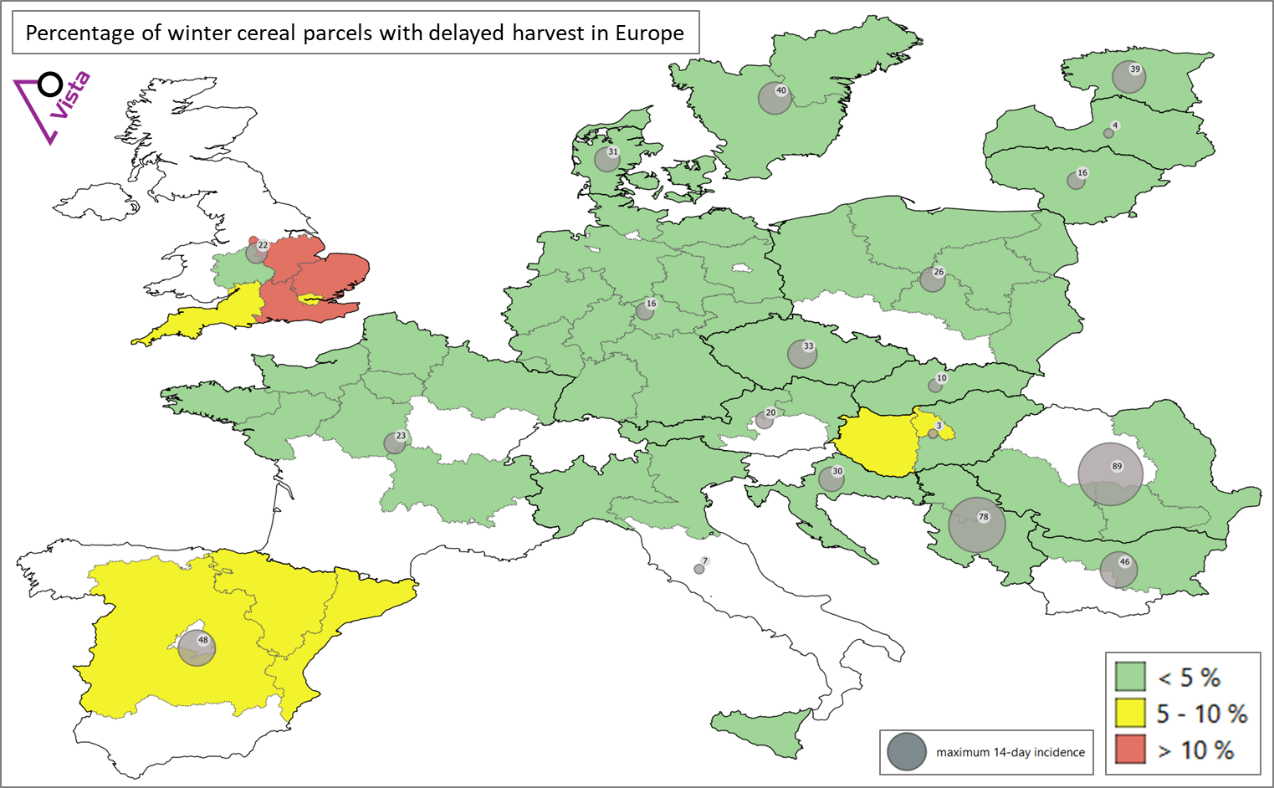 If you want to get a more in depth look at the results just click here. The data can also be found at the FoodSecurity-TEP and on ESA's RACE (Rapid Action on Coronavirus and EO) platform.
---
New Product
Updated product information can be found here
---
crop status information
YPSILON product in 2021 also includes crop status information.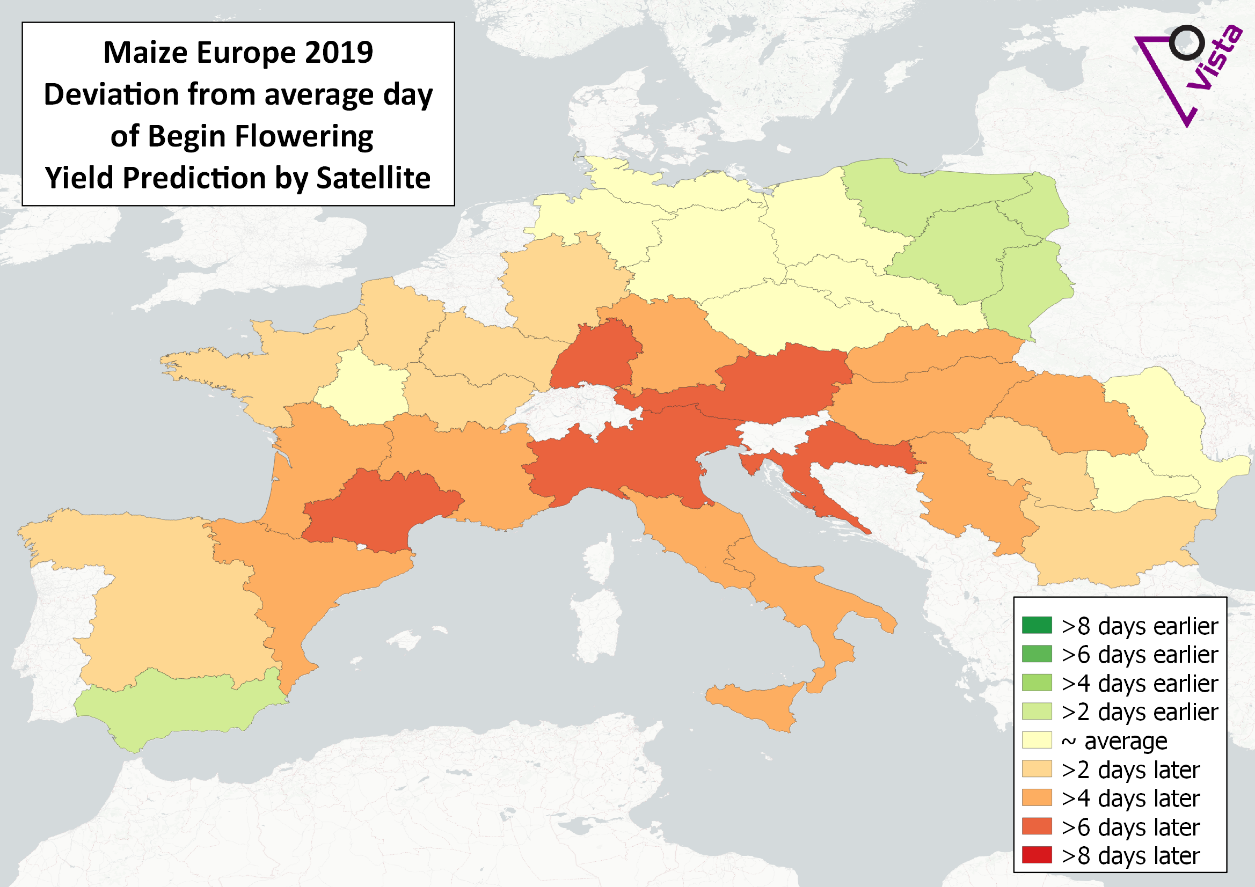 ---
services
Next season YPSILON Services will be expanded to Ukraine and Russia
---
Successful yield prediction for wheat rapeseed and maize
The final yield prediction obtained from YPSILON model has achieved a high positive correlation compared to the Eurostat statistics. This confirms the accuracy of our yield estimations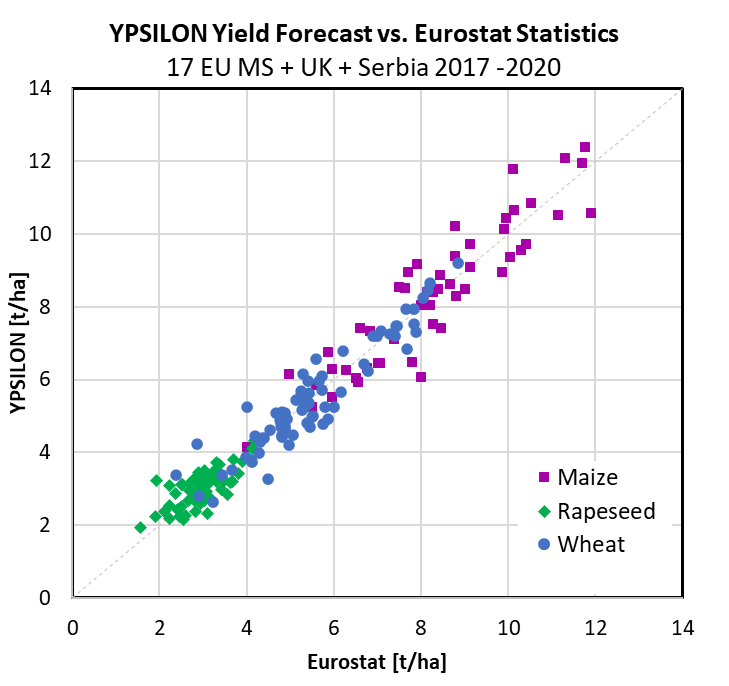 ---
Start of season 2020
On May 18th, YPSILON® starts into its first Europe-wide season! Find the press release here
---
Back-tests for three years successfully completed
VISTA successfully completed three years of tests for 19 European countries and the years 2017 to 2019. The YPSILON model forecasted both crop failures and record yields about 2-4 weeks earlier than the average market estimate! For further details see our product sheet or contact us
---
Ypsilon product video 2020
Take a look at our new product video and get more information. Just click here to watch it
---
Follow us
Do you want to know what is going in the Ypsilon headquartes? Just follow us on Twitter and Linkedin. Don't miss the chance to get up-to-date information for better decision making
---